Social Media Marketing is a powerful way for businesses to reach potential prospects and customers. Your Customers are already interacting with Brands through Social Media, and if you're not speaking directly to your audience through social platforms like Facebook, Twitter, Instagram, and Pinterest, you're missing out! An Effective Marketing Strategy on Social Media can bring remarkable Success to your Business, creating Brand Advocates and even driving leads and sales.
Search Media Marketing by Effective Marketing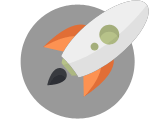 We're Here To Help Your Business Blast Off!
Through Creative Ideas, Innovation & Sheer Determination