Trends are constantly changing and it can be hard to maintain a modern image. Rebranding is an option that business owners often overlook, but keeping your look, feel, and Branding fresh can be the key to keeping your company ahead of your competition.
The biggest advantage to refreshing the look and feel of your brand is the ability to reach new potential customers. When you focus on new aspects of your Business and Promote them correctly, people will take notice. Rebranding can offer the stimulation your business needs to create new growth in a rapidly changing market.
Rebranding is a valuable tool when it comes to expanding your Brand and helps you build Brand Awareness. 
ReBranding by Effective Marketing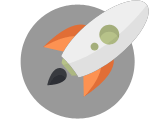 We're Here To Help Your Business Blast Off!
Through Creative Ideas, Innovation & Sheer Determination