Search Engine Marketing is used to describe Google paid search ads. This technique is often used as a short-term strategy bringing fast visibility to your products or services. Compared to Search Engine Optimization (SEO), paid search ads can give you quick results as they allow you to reach your target customers instantly.
SEM is a very effective way for businesses to reach specific customers based on their search intentions. You can make your ads appear only to consumers who are searching using keywords closely related to your products or services. Choosing the right keywords for which your ads are triggered to appear helps you create highly optimized ads.
Search Engine Marketing by Effective Marketing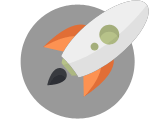 We're Here To Help Your Business Blast Off!
Through Creative Ideas, Innovation & Sheer Determination