Content Marketing is an Inbound Marketing Strategy that is an effective way to drive visitors to your website. Content marketing is a Digital Marketing Strategy in which content is created on a consistent basis for an ideal buyer profile. The goal is to use the content to drive Organic Website Traffic, increase Qualified Lead Generation, and close more deals.  Using Keywords and phrases related to your business will help your website be found in search engine results pages or social media pages.  Content marketing is all about using content to attract and retain visitors and eventually turn them into customers. And it's a very Effective Marketing Strategy. 
Content Marketing by Effective Marketing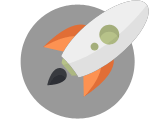 We're Here To Help Your Business Blast Off!
Through Creative Ideas, Innovation & Sheer Determination