Search Engine Optimization
SEO is an acronym that stands for Search Engine Optimization, which is the process of optimizing your website to get organic, or un-paid, traffic from the search engine results pages (SERPs).
In other words, SEO involves making certain changes to your website design and content that make your site more attractive to a search engine. You do this in hopes that the search engine will display your website as a top result on the search engine results page.
Search Engine Optimization can get quite complex when it comes to all the different 200+ factors that impact your ranking. Search engines want to provide the best service for their users.  Search Engine Result Pages provides results that are not only high quality but also relevant to what the searcher is looking for.
Search Engine Optimization by Effective Marketing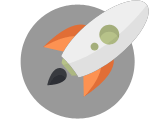 We're Here To Help Your Business Blast Off!
Through Creative Ideas, Innovation & Sheer Determination