An Email Marketing Strategy is a set of procedures that a marketer identifies and follows to achieve desired marketing goals with email advertising. This plan of action gives the businesses a direct channel of communication with prospects and customers for Brand Promotion. With an email marketing strategy, a company can plan when to send emails. These emails can be time-based promotions, non-promotional, informational or just a simple follow up. Keeping in contact with your customers with help to improve sales and Brand Awareness.
Email Marketing by Effective Marketing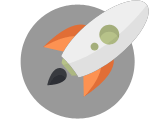 We're Here To Help Your Business Blast Off!
Through Creative Ideas, Innovation & Sheer Determination